Express Buy

About Express Buy
The evolution of car shopping has begun. With more shoppers like yourself hitting the .coms rather than visiting their local car dealer, it seems only natural to offer a more convenient way to shop, save, and apply for financing online. At Mercedes-Benz of San Antonio, we've embraced this evolution to the fullest by providing our customers with the ultimate resource to both find new Mercedes-Benz models and acquire auto financing in minutes.
How Does Express Buy Work
Our philosophy is simple: give you the right tools to find the perfect Mercedes-Benz and car loan rates. With this new Express Buy system, those tools are always at your fingertips. Simply view any of our new Mercedes-Benz cars for sale, and you'll be presented with all the essential details about that vehicle, including its price, sample monthly payments, down payment amount, term lengths, and more.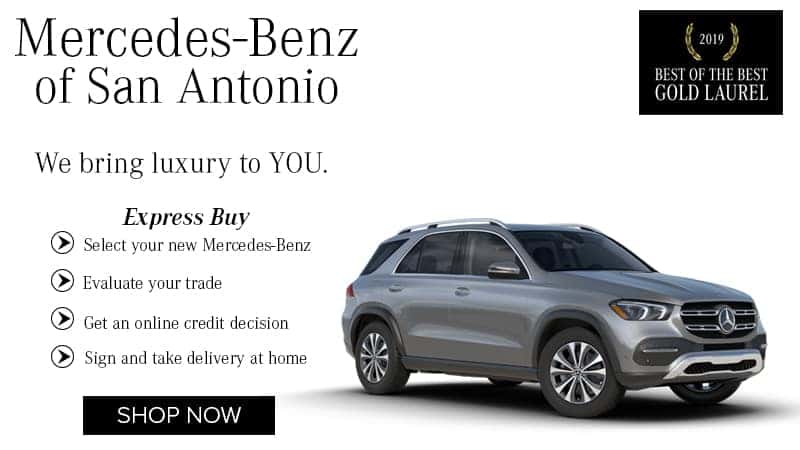 If you decide to finance a Mercedes-Benz, just click the Calculate Payments button and go through a few short steps to identify your finance and leasing options. After providing your contact details and other necessary information, you'll complete a credit application and receive an offer within moments. Then securely sign your car loan documents and plan a time to have your new Mercedes-Benz delivered to your home! No hassles, just you, your new ride, and an open road.
If you plan on purchasing your preferred Mercedes-Benz vehicle with cash or third-party financing, you can reserve your vehicle, too! We'll be sure to prepare it in advance of your first test drive.
Mercedes-Benz Financing Made Easy
The future is here, and it's beautiful. Use our new Express Buy to guarantee yourself the best pricing on the best vehicles from one of the best car dealerships in San Antonio. Shop our current selection of new cars for sale, and allow us to bring you into the modern age of car shopping. For more information about our new Express Buy system or how to acquire fast auto finance approval, contact Mercedes-Benz of San Antonio at (210) 920-3237 or visit our San Antonio Mercedes-Benz dealership at 9600 San Pedro Ave.