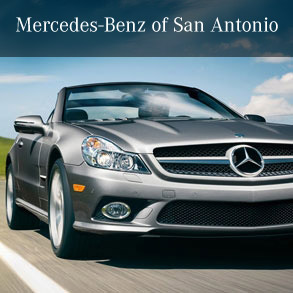 Mercedes-Benz of San Antonio is proud to have a Mercedes-Benz Dealer-Sponsored Facility located right next our dealership. This facility can handle most cases needed to restore your vehicle back to proper form and function.
Mercedes-Benz Certified Collision Program
The Collision Certification program has been developed by Mercedes-Benz to certify and distinguish the body shops that meet or exceed Mercedes-Benz standards for:
Tools
Equipment
Facilities
Repair work
Training equipment)
Commitment to customer care
Mercedes-Benz Dealer-Owned or Mercedes-Benz Dealer-Sponsored Facilities participate in this program. All Collision Facilities certified by Mercedes-Benz have successfully completed an extensive audit and have made the significant commitment that is required to be a certified facility.

Protect Your Investment
The best way to ensure a proper repair is to use equipment consistent with your vehicle's specifications and All Collision Facilities certified by Mercedes-Benz use factory-approved equipment.
Mercedes-Benz distinctive features require distinctive attention. We recommend that ONLY Certified Facilities undertake paintwork or body repairs on your vehicle. Certified Collision Facilities understand the unique features and particular needs of your vehicle and they have the tools, equipment and training needed to repair paint and body damage properly.

Your Mercedes Benz is an investment in a unique automobile and collision repair for these vehicles is an art. Mercedes-Benz has critical guidelines for correctly repairing their vehicles. The average body shop does not have access to these critical dealer internal publications or schools.
Our Pledge To You
We at MBofSA are certified by Mercedes-Benz U.S.A. in all areas of repair. From a simple scratch to serious unibody or frame damage, why trust your Mercedes repair to a body shop? Let MBofSA bring your Mercedes back to exact pre- accident condition. We use only Mercedes factory parts and Mercedes quality paint and refinishing procedures. We watch over the repair from start to finish and treat your car as if it were our own.
If price is your concern, it really shouldn't be. We have the recognition of all major insurance companies and work with their estimates every day, so our prices are the same as body shops. When we repair your car, however, we become an advocate for you, ensuring your insurance company will not cut any corners in the repair procedure. We insist on a quality repair only and of course, we stand behind all of our repairs.
P.S. If your other car (not a Mercedes-Benz) needs collision repair, we can help you with that also.